The Accountant's Partner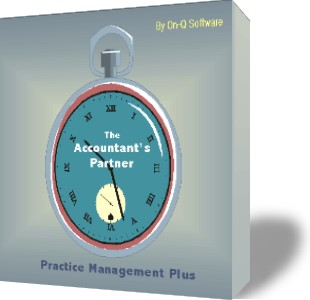 The Accountant's Partner is a professional time, fixed fee billing, due date monitoring system designed specifically for the accounting and tax profession. It provides a centralized location for the daily administration of the services your firm renders, the time consumed in performing these tasks, the tracking of important deadlines, the preparation and maintenance of invoices and accounts receivable, the tracking of appointments, engagements and much more.
Displayed below are a several of The Accountant's Partner screens. Scroll down and click on a picture and see how The Accountant's Partner practice management software is distinguished by its complete, yet simple and easy to use design.
Client
Staff
___________________________________________________________
Time Bill Transaction Clock Transaction
Recurring Bill Standard Invoice Receivables
_________________________________________________________
Practice Manager
Scheduler
_________________________________________________________
Partial Software Features
Step by step tutorial & quick set up notes
User friendly screens & on line help
Easy to use & comprehensive
Real (on line) or batch time entry
Clock generated time transactions
Multiple time interval selections
Multiple write up/down features
Multiple invoice formats
Select invoice type by client
User defined invoice text
Client and staff budgets
Email client invoices
Email client statements
Email client letters
Email client tax deposit notices
On demand billing
Automatic fixed fee billing
Complete/partial time billing
Clock time billing
Complete invoice history
Invoice reprinting capabilities
Re-billing capabilities
Full featured accounts receivable
Payment batch entry
After the fact invoice entry
Finance charge calculations
Transactions journal
Accounts receivable history
Features Continued
Complete due date tracking
Automatic calculation of federal due dates
Work control screens and worksheets
Contact management features
Client query function
Prints labels & rotary cards
Engagement scheduler and message center
Client notes tracker
Letter mail merge features
CPE credits tracker
Mileage and expense tracker
Tax deposit notices manager
Virtual unlimited number of clients
Virtual unlimited number of partner/staff
Virtual unlimited number of timekeepers
Virtual unlimited number of services
Virtual unlimited number of transactions
Shares one common database
Avoids duplication of effort
Back up and restore functions
Automatic installation
Over 150 management reports
Import and export capabilities
Single and network versions available