The Pre-School Partner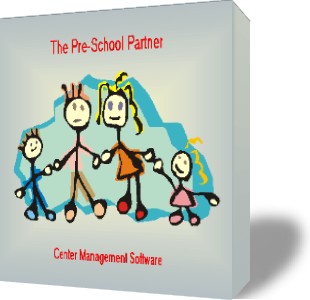 The Pre-School Partner is a complete daycare management system designed specifically for the daily administration of preschool and day care centers. It is characterized by its simple, easy to use and comprehensive user friendly design. It facilitates the daily functions and management of your center by tracking and instantly making available all family, child and staff related information. Its complete and up to date with emergency contacts, guardians, drop off/pick up contacts, family and children notes, medical information, vaccination management, billing, accounts receivable, remote terminal logging, child scheduling and attendance, over 100 reports and much more immediately available within your fingertips reach.
Displayed below are a several of The Pre-School Partner screens. Scroll down and click on a picture and see how The Pre-School Partner daycare management software is distinguished by its complete, yet simple and easy to use design.
Family Pick Up
Children
Billing/Receivables
Related Business Applications
Daycare - Preschools
Afterschool Programs
Montessori Schools Centers
Hospital Centers
Employee Child Centers
Military & Government Centers
Youth Centers
Partial Software Features
User friendly screens
On line help
User's tutorial
Helps you conform to HRS regulations
Tracks child vaccinations and next doctor due date
Maintains family and children waiting lists
Prints attendance roster worksheets
Maintain authorized child drop off/pick up information
Provides child eligibility and fund re-determination reports
Prints coming due vaccinations notices
Prints year end family tax reporting statements
Tracks staff first aid information and training history
Automates billing and tracking of collections (accounts receivable)
Log in/log out module
Automates check writing
Integrated appointment scheduler
Over 70 management reports
Email, fax and telephone support
Features Continued
Full features accounts receivable
Family invoice/payment inquiry screen
Quick family payment entry
Family outstanding balance ledgers
Finance charge calculations available
Complete accounts receivable history
Prints labels and rotary cards
USDA meal program calculates reimbursements
Log in/log out module
Automates check writing
Integrated appointment scheduler & message tracking
Virtual unlimited number of families
Virtual unlimited number of children
Virtual unlimited number of staff
Avoids duplication of effort
Back up and restore functions
Automatic installation
Email, fax and telephone support
Import and export capabilities
Single user and network versions available